ETI completes exciting new rebranding initiative as company continues it's upward growth trajectory
NOVEMBER 2022 – ETI has completed an extensive rebranding initiative and is proud to announce the launch of an all-new logo, corporate signature and website.
This rebranding places the company's dynamic range of innovative equipment front and centre marking the start of a new era for ETI. It is designed to address the increasing interest in ETI's custom solutions and modular machines including the Cohesio, Metronome, LinerO, and Acuro.
The company has always been an innovator in its approach to self-adhesive label manufacturing providing game-changing equipment for inline printing, coating and converting. To hone in on the myriad of unique resources ETI offers, the new website highlights the exceptional features and wide range of advantages that more and more industry players are choosing to increase profitability, efficiency, and sustainability.
The new logo features bright colours and ribbon shapes reminiscent of material running through a machine. It's designed to reflect the company's progressive values and underscore the new corporate vision. It is accompanied with the signature line' "Equip To Innovate". More than just an acronym for ETI, it is a brand promise and a reference to the company's competitive advantages and unique solutions for inline label manufacturing.
"The industry has been moving fast in recent years but one thing remains true: we want to supply our customers with the exceptional tools and resources they need to be competitive, " explains Maxime Bayzelon, President at ETI. "That's why ETI has always believed in providing printers and converters with unparalleled autonomy, innovative solutions and proven equipment that will help them produce labels with an exceptional level of quality. Our new website is designed to reflect this enduring commitment to our clients and underscore all the advantages of partnering with our team and choosing our products. "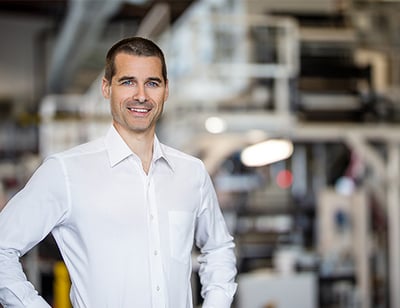 This exciting rebrand is the culmination of a concentrated effort by the company to highlight their unique approach to printing and converting that has made them an outlier in the industry.